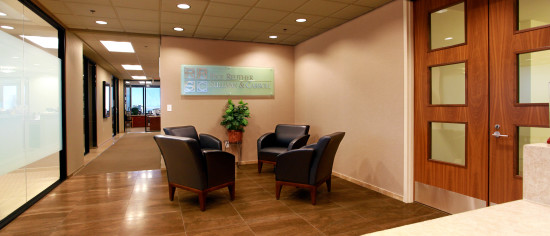 In recent years, dramatic changes in the real estate market have presented developers, owners and real estate-based businesses with as many challenges as it has alternatives. The increasing complexity of modern real estate transactions now forces those who engage in these activities to seek legal advice from attorneys who can translate the breadth of their knowledge into focused, sophisticated, and yet practical, advice on a wide variety of specific elements.
The attorneys at Rice Reuther Sullivan & Carroll LLP take pride in working directly with clients in order to provide them with advice that is both detailed and comprehensive, while always being focused on achieving each client's specific goals. Whether your transactions focus on single-tract properties, multi-use developments or 2,000-acre planned communities, we stand ready to provide the advice and services you need. Our practice is based on fostering close, one-on-one relationships with our clients so we can better assist them in successfully implementing their goals while protecting their vital business interests and avoiding the pitfalls that often arise in the complex world of commercial real estate.
Our Areas of Practice
The real estate attorneys at Rice Reuther Sullivan & Carroll LLP continually strive to provide clients with an expansive approach to all required legal services. The size and comprehensive nature of our real estate team enables it to focus closely on a variety of practice areas. These areas include:
Planned Developments
Leasing (office, retail and ground)
Financing
Capital Formation
Debt and Capital Restructuring
Real Property Tax Appeals
Acquisitions and Dispositions
Common Interest Communities
Condominium Projects
Our Valued Clients
Our firm is proud of its involvement in many of Southern Nevada's most notable projects. Our clients include business leaders across a wide variety of industries including entertainment, healthcare, manufacturing, building, banking, property management, education, high-end development and more. These clients include:
American Casino & Entertainment Properties, LLC
ANB Venture, LLC
Ascaya, Inc.
Aurora Highlands, LLC
Brookfield Asset Management
The Brookhollow Group
Caesar's Entertainment Corporation
Cannery Casino Resorts, LLC
CIM Group
Del Mar Partnership, Inc.
Donahue Schriber Realty Group, L.P.
Drive This Entertainment
El Ad IDB Las Vegas LLC
Equity Office
Foothills Partners
Hard Rock Hotel, Inc.
Harmony Homes
Housing Capital Company
HRHH Hotel/Casino LLC
International Game Technology (IGT)
Juliet Companies, LLC
KB Home
Lakemoor Development, LLC
The Landwell Company
Las Vegas Resort Hotels, LLC
MacDonald Highlands
MacDonald Properties
Mark L. Fine & Associates
Mountain View Equity L.P.
Mountain West Debt Fund, L.P.
Nevada Bar Foundation
Nevada State Bank
Pacific Links International
Pebble Beach Company
Resorts World Las Vegas LLC
The Ribeiro Companies
Scientific Games
Shadow Creek Ranch Development Company, LP
Station Casinos, Inc.
Storybook Homes, LLC
Taylor Derrick Capital, L.L.C.
Warner Gaming, LLC
WGH Acquisitions, LLC
Woodside Homes of Nevada, LLC
Wynn Employee Foundation
Wynn Las Vegas, LLC
Why Our Clients Choose Us
At Rice Reuther Sullivan & Carroll LLP, our clients recognize the benefit of dealing with a team of attorneys whose dedication, professional experience and technical proficiency combine to provide elite-quality service and legal assistance.  We offer tailor-made and personalized solutions to the challenges that arise in today's multifaceted real estate market. Through an active participation in organizations designed to educate and enhance the real estate industry, our attorneys continue to increase their knowledge of shifting trends while remaining current on new and updated legislative rulings that continue to impact market conditions.
A strict attention to detail enhances our ability to devise successful strategies for handling our client's needs. Whether you require assistance with real estate and business acquisitions and dispositions; planned developments; leasing; joint ventures; financing; capital formation; restructuring; or commercial and real estate litigation, the team of dedicated and experienced attorneys at Rice Reuther Sullivan & Carroll LLP will work to help you achieve your goals.